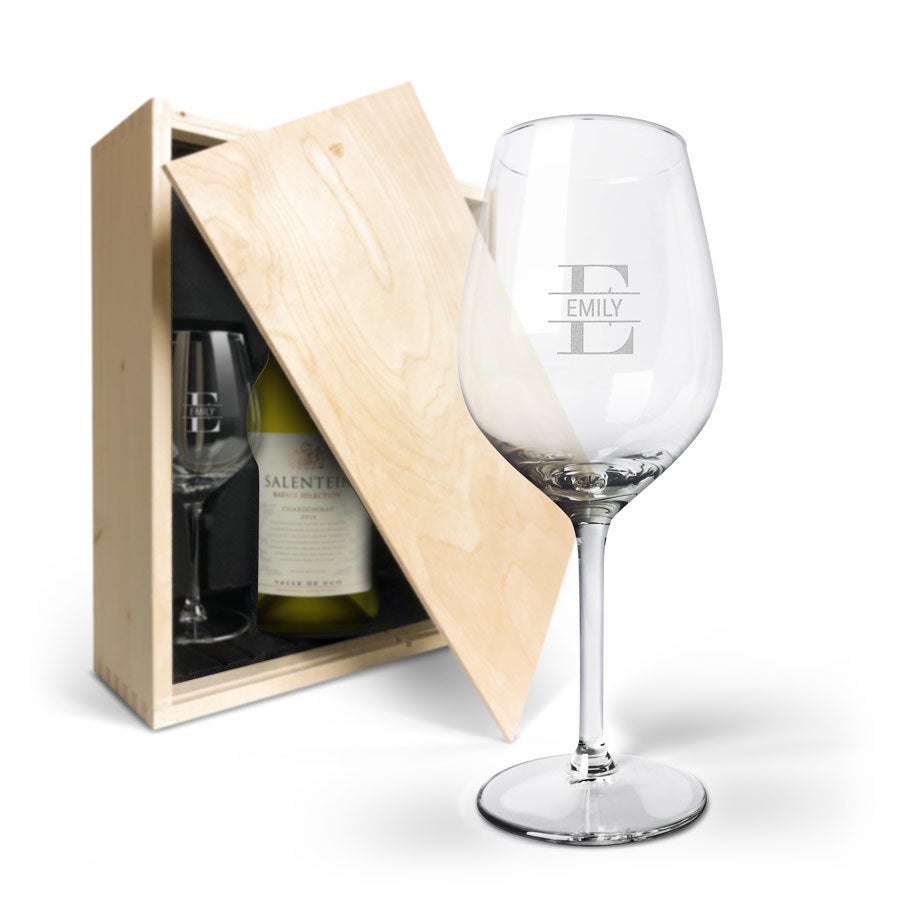 Salentein Chardonnay
I hereby declare that I am at least 21 years old and allowed to buy alcohol legally, my date of birth is: dd-mm-yyyy (obliged)
Gifts specifications
Read more about this gift
Special refined glasses by Royal Leerdam
Your text forever lasered into the glass
Luxury wooden chest with sliding lid and inlay
Including full-size bottle of the finest wines
Gifts specifications
More information about the white wine glasses:
Brand: Royal Leerdam
Type: L'Esprit
Diameter: 8,5cm
Height: 20,5cm
Content: 37cl
Type of glasses: white wine glasses
Extra: dishwasher safe

More information about the wine:
Name: Salentein Chardonnay
Content: 750 ml
Land: Argentina
Grape: Chardonnay
Type of wine: White, full and juicy
Character: A titian colored wine with a full and rich aroma of citrus, vanilla, honey, banana and tropical fruit. A soft taste with fine wood matured vanilla.
Extra: Wooden wine case with FSC certificate


Give a Salentein Chardonnay wine package with engraved glasses in a wooden case as a present!
✔ 2 engraved white wine glasses made by Royal Leerdam
✔ 1 bottle of Salentein Chardonnay wine
✔ In luxury wooden case with slide cover
✔ Orderable from 1 piece
✔ Wrapped in a nice gift wrapping with free additional gift card
✔ A wine package with engraved glasses is always a good idea!

Giving a wine package as a present is often a little mainstream. But with this Salentein Chardonnay you will sursprise everyone, because the package also contains two wine glasses from Royal Leerdam. This gift becomes extra personal because you can engrave the glasses with your own text! On top of that you can pick one of our special designs for the glasses. This way you can make the wine package more unique and are you able to give someone a classy and original wine gift!

With this Salentein wine package you can make every dinner complete and the engraved wine glasses will look stunning on the dinner table. But the wine package with engraved glasses is also a great item to give as a present! Whether you give the wine package to someone who turned 50, a colleague, as a business present or as a way to thank someone, with this luxury wine package with engraved glasses you will always have a special gift.
FAQ
Personalising & ordering
What is personalising and how does this work on the website?
You can start making your gift by clicking the 'start personalising' button. In our gift editor, you can personalise the gift completely in accordance with your wishes: add your own picture and/or text. If you want, you can also opt for a cool design to make your gift truly unique.

Is personalisation included in the price?
The price shown on the website includes the personalisation of your gift. Nice and clear!

How do I know if my picture has the right quality?
In the gift editor, you will receive a notification if the quality of the picture is insufficient.

What formats can I upload?
You upload JPG and PNG files into our editor. Is this too technical or do you have an image of a different format you would like to use? Please contact our customer service. They are happy to help you so you can make the gift you want!

Is my gift wrapped?
Currently, we do not have a gift-wrapping service to wrap your present. We do deliver our gifts in a festive packaging. This means that your gift is ready to be given or that it can be sent to the recipient directly.
Delivery time, delivery options and delivery costs
Can I choose a delivery date?
It is not possible to select a specific delivery date.

What is the delivery time and when do I receive my gift?
The expected delivery dates can be found on the product page.

What delivery options can I choose?
This varies per gift/order. You will be shown the available shipping methods in the shopping basket when completing your order.


Payment
How can I pay my order?
We offer the following payment methods: iDeal, Paypal, credit card and manual bank transfer. In case of manual bank transfer, please note that this takes up to 3 working days to be processed, and will delay the expected delivery dates.


Gift received
What if the gift is not entirely to my liking?
We deeply regret that your gift is not to your liking. Please contact our customer service, they are happy to help you find a suitable solution.

Is the invoice sent along with the order?
No invoice is not sent with your order. You will always receive the invoice in the confirmation email and you can always find it in your MySurprise account. This means you can have the gift delivered directly to the recipient, making it a true surprise!
Reviews
Excellent service ,easy to order and very pleased with photo result. I haven't tasted the wine so can not rate it.
Margaret • 25-11-2020
Business gift?
Interested in ordering larger numbers of this gift? Please fill in the request form and receive an instant price quote. You can reach out to us directly via b2b@yoursurprise.com or during working days by phone between 08:30 - 17:00 (CET)
Every gift with unique personalization
Shipped directly to the recipient