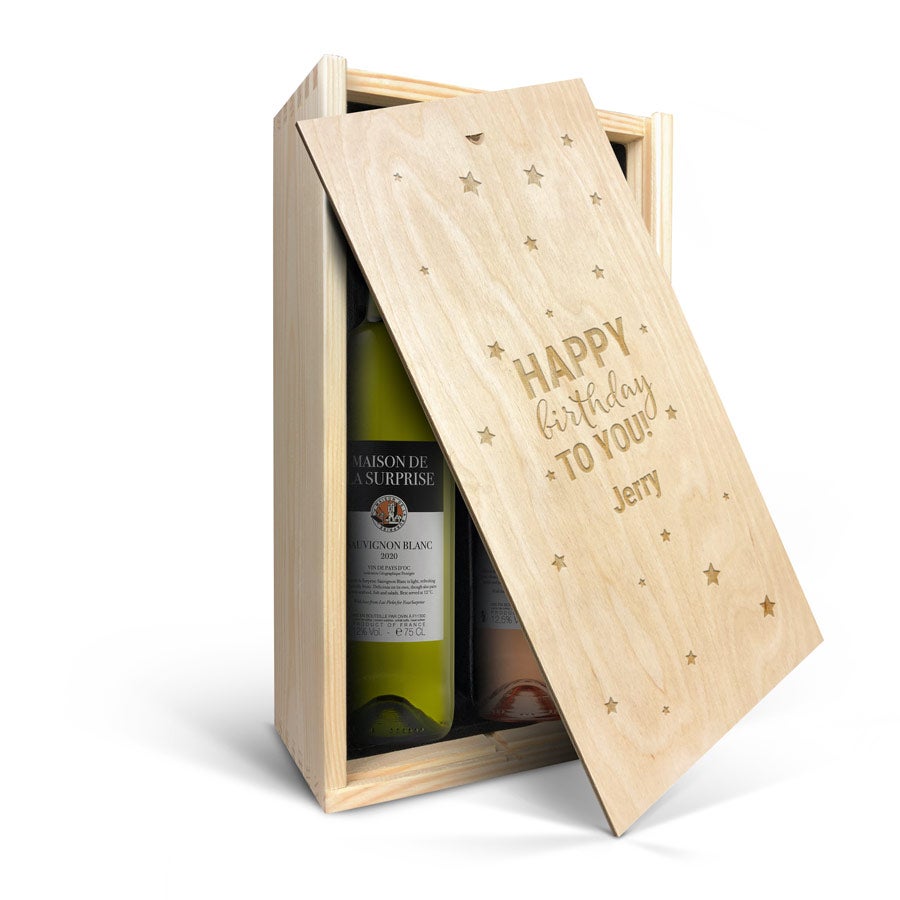 Personalised Wine Gift Set - Maison de la Surprise
I hereby declare that I am at least 21 years old and allowed to buy alcohol legally, my date of birth is: dd-mm-yyyy (obliged)
Gifts specifications
Read more about this gift
Delivery address of your choice
Add a free message card for the recipient
Gifts specifications
More information on the deluxe wooden case:
Personalisation: with name and/or text
Personalisation placement: on the wooden case lid
Personalisation method: high-quality laser-engraving
Case dimensions: 36,5 x 20,6 x 11 cm
Lid dimensions: 35,6 x 18,9 x 0,3 cm
Additional information: The wooden case is made with FSC-certified wood.

More information on the wine:
Brand: Maison de la Surprise
Contents: 750 ml
Country of origin: France

Maison de la Surprise white
Grape: Sauvignon Blanc
Character: Maison de la Surprise Sauvignon Blanc has notes of citrus, musk and green currants. Pairs well with salads, goat's cheese and seafood.

Maison de la Surprise rosé
Grape: Syrah
Character: Maison de la Surprise Syrah has notes of red fruit, raspberries and wild strawberries. Pairs well with light meals.

Surprise your loved ones with delicious Maison de la Surprise wine in an engraved wooden case!
Looking for a versatile gift with a personal touch? Then this bottle of Maison de la Surprise wine in a wooden case is perfect! You can design it yourself by adding the name or text of your choice, along with one of our fun designs. Fantastic for a birthday, but also suitable as a business gift, thank-you or to celebrate an anniversary. You could even treat yourself!

The deluxe wooden case is made of sustainable FSC-certified wood, contributing to sustainable and responsible forest management. It includes delicious Maison de la Surprise wine. Designing your own engraved wooden case is easy. Simply add the name and/or text of your choice in the editor and add one of our beautiful designs, if you wish. We will then engrave your design into the wooden case lid with great care and precision.

Maison de la Surprise is our YourSurprise house wine. This house wine is produced especially for us by wine producer Luc Pirlet in the French Languedoc region. It's a beautiful wine with a nod to the town of Zierikzee, which is where YourSurprise is situated, and is a great combination of personalisation and craftmanship. Our collection includes 5 delicious wines, with various gifting options available, such as a Maison de la Surprise Merlot with a personalised label, or in a wooden case with a personalised engraved lid.

Wooden case with logo? Please contact our business department for larger quantities.
FAQ
Personalising & ordering
What is personalising and how does this work on the website?
You can start making your gift by clicking the 'start personalising' button. In our gift editor, you can personalise the gift completely in accordance with your wishes: add your own picture and/or text. If you want, you can also opt for a cool design to make your gift truly unique.

Is personalisation included in the price?
The price shown on the website includes the personalisation of your gift. Nice and clear!

How do I know if my picture has the right quality?
In the gift editor, you will receive a notification if the quality of the picture is insufficient.

What formats can I upload?
You upload JPG and PNG files into our editor. Is this too technical or do you have an image of a different format you would like to use? Please contact our customer service. They are happy to help you so you can make the gift you want!

Is my gift wrapped?
Currently, we do not have a gift-wrapping service to wrap your present. We do deliver our gifts in a festive packaging. This means that your gift is ready to be given or that it can be sent to the recipient directly.
Delivery time, delivery options and delivery costs
Can I choose a delivery date?
It is not possible to select a specific delivery date.

What is the delivery time and when do I receive my gift?
The expected delivery dates can be found on the product page.

What delivery options can I choose?
This varies per gift/order. You will be shown the available shipping methods in the shopping basket when completing your order.


Payment
How can I pay my order?
We offer the following payment methods: iDeal, Paypal, credit card and manual bank transfer. In case of manual bank transfer, please note that this takes up to 3 working days to be processed, and will delay the expected delivery dates.


Gift received
What if the gift is not entirely to my liking?
We deeply regret that your gift is not to your liking. Please contact our customer service, they are happy to help you find a suitable solution.

Is the invoice sent along with the order?
No invoice is not sent with your order. You will always receive the invoice in the confirmation email and you can always find it in your MySurprise account. This means you can have the gift delivered directly to the recipient, making it a true surprise!
Reviews
Amazing thank you
Leanne and Robert • 29-11-2020
Arrived on time, in a lovely box, the phtoto quality looked great and my family absolutely loved the sentimental value... not to mention the wine!
Amanda • 03-01-2017
Business gift?
Interested in ordering larger numbers of this gift? Please fill in the request form and receive an instant price quote. You can reach out to us directly via b2b@yoursurprise.com or during working days by phone between 08:30 - 17:00 (CET)
Every gift with unique personalization
Shipped directly to the recipient