How it's made: Personalise your very own mug
If you'd like to order a personalised mug and are wondering how they're made, you've come to the right place! Did you know that we personalise all of our mugs by hand from our location in Zierikzee, The Netherlands? Check out how we do this below.
How we create it: Your personalised mug
This video will show you exactly how we create your mug, after you've personalised it in our online editor. If you'd prefer to read about the process instead, scroll down.
Step 1: Designing your mug in our online editor
Personalising your mug is easy. Simply select the type of mug you want, such as a white mug, green mug, pink mug, enamel mug or a magic mug. Once you've made your choice, select a design in our online editor and add the photo(s) of your choice. If you have several photos that you'd like to use, you can even create a collage and position the photos as you wish. You can add a name or text of your choice, too. Using our tools, you can edit the photos to make them black and white or sepia, adjust the size or rotate it.

Did you know that we have lots of fun, ready-to-use designs available for you? Select one and add your photo or text.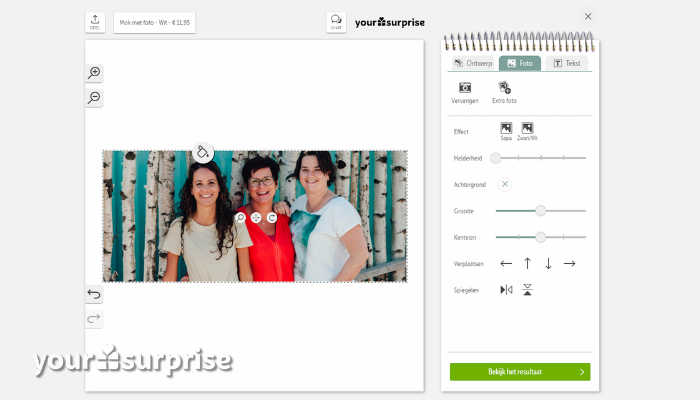 Step 2: Printing your design
Once you've perfected your design and placed your order, the order will be sent to our Production department. Your design is printed in mirror image, so that it will appear on the mug correctly. We use printers that print special, high-quality ink to print your design in full colour, with a glossy finish. Each design is given a unique bar code, so that we can see which design belongs to which order. Once your design has been printed, we cut it to size.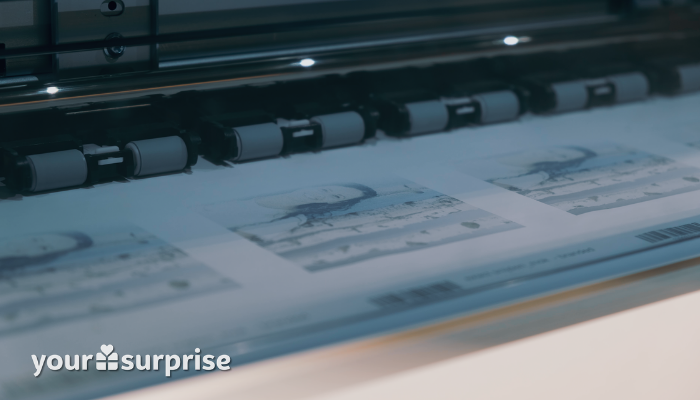 Step 3: Wrapping and placing your mug in our mug oven
Once your design has been printed and cut to size, we attach it to your mug by hand in a process we call 'wrapping'. We do this by hand, but have great tools to help us do this; we place the mug in a special mug holder, wrap the printed design around it and close the clamp around it tightly. We work with clamps to ensure that your design will be straight and evenly printed. If any space is left between your design and the mug, the design on the mug won't be printed correctly.

Once the mug is all wrapped up and securely clamped, it goes onto a mug rack and into our mug oven. Our mug racks can hold up to 150 mugs at a time. While in the oven, the mug absorbs the ink from the design printout in about 10 minutes.

Did you know that we make our magic mugs in exactly the same way, but that these mugs have an additional, special coating? The special coating gives the magic mugs their black appearance and disappears when a hot liquid is poured in, revealing the design beneath.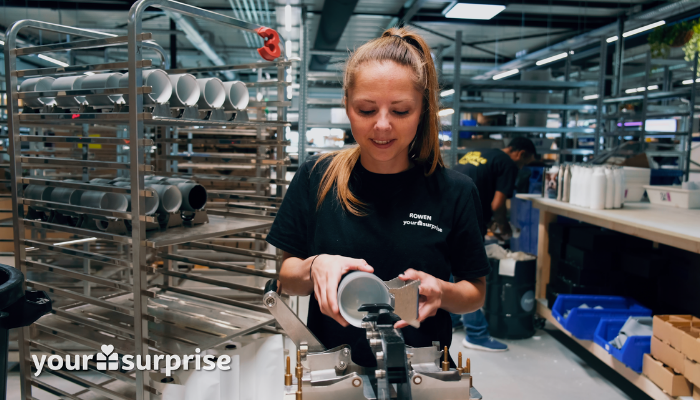 Step 4: Checking your mug
Once your mug is done baking, it can be removed from our mug oven. We let it cool down and remove the clamp. We then check the mug thoroughly, to see if the design matches the design that you created online. Each mug still has its unique bar code, which allows us to send the right mug to the right customer. Once it's been approved, the mug moves on to the Packing department.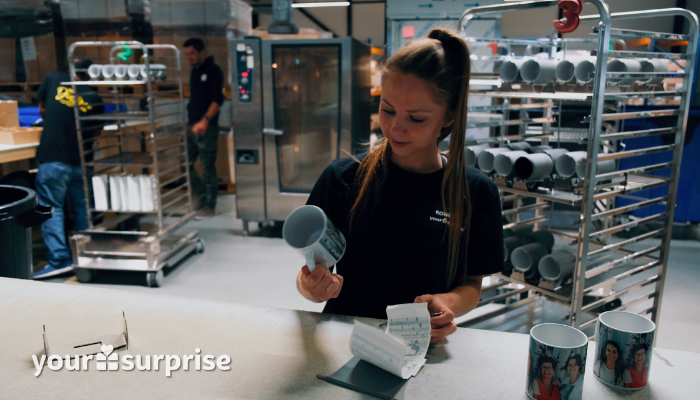 Step 5: Shipping your mug
Time to pack up your mug for shipment. We fold a special mug box and place your mug snugly inside. We add a section of cardboard around the mug, to stop it from moving around during transportation, and add bubble wrap if necessary, for extra protection.

If you've ordered more than just the mug, the mug travels to our packing department on our conveyor belt to wait for the other gifts that you've ordered. Our computer system helps us to gather all of the ordered gifts per customer. We carry out an extra check to make sure we have everything and that all the gifts meet our quality standards. If so, we pack up each gift carefully and place the parcel back on our conveyor belt to the Shipping department, where it will be collected by our shipping agents and delivered to you or the chosen recipient as soon as possible.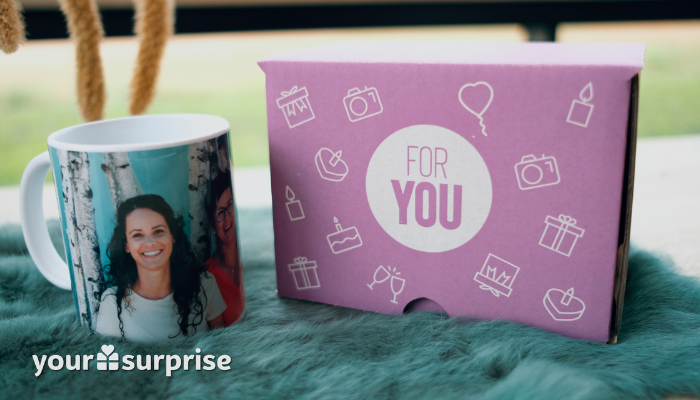 Your very own personalised mug
If you'd like to order a personalised mug featuring the photo(s) and or text of your choice, create one online in just a few clicks!
View all mugs >>>