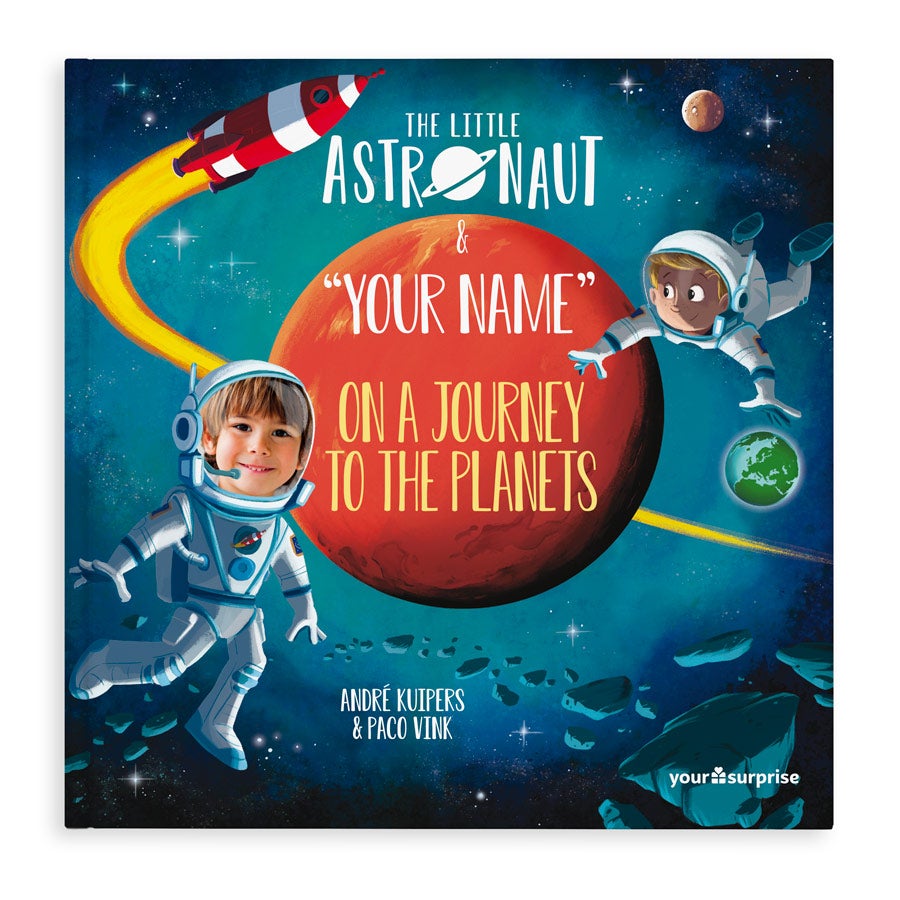 Personalised book - The Little Astronaut
Personalised children's book - The Little Astronaut - Hardcover
Personalised with name, photos and personal message
Beautiful full-colour illustrations
Informative, educational and fun
Inspire your little one to dream big
Gifts specifications
More information on 'Little Astronaut and name':
Dimensions: 21,5 x 21,5 cm
Cover: hardcover
Number of pages: 32
Personalisation: photo, name, surname, personal message and gift giver's photo, localization on world globe
Age: 6 - 10 years

Plenty of space for your personal touch:
Your little astronaut plays an active part in this adventure and many pages show their photo and/or first name.
Add a personal message for your astronaut, including a cool photo of yourself.
You can even indicate in which country the recipient lives on a world globe.

This book is printed on very special paper, made of elephant grass. Elephant grass can absorb up to four times as much CO2 as a regular forest. It grows naturally in The Netherlands, often on vacant areas of land. Elephant grass doesn't require additional water or pesticides and can help us keep our planet healthy.

Additional information
The photo of the recipient is included on the cover and in the book. The gift giver's photo and personal message is shown on the first page inside the book.
For technical reasons, it is unfortunately not possible to add Cyrillic, Turkish, Asian, Arabic, Greek or special characters.
Travel through space and explore the planets with Astronaut André Kuipers
Do you need to wear a spacesuit on Mars? Can you walk on Jupiter? Is Venus really boiling hot? And what is the most special planet in our solar system? In A journey to the planets , your young astronaut puts on their spacesuit for an exciting and educational space adventure with astronaut and author André Kuipers and the Little Astronaut.

At the age of twelve, author André Kuipers received science fiction books as a gift from his grandmother. Reading these, he knew for sure: one day he would travel into space. André flew to the International Space Station ISS in a Russian Soyuz rocket, where he then lived and worked for six months. At the time, his second mission was the longest spaceflight in European history.

With this book, André hopes to inspire the dreamers, thinkers, doers and daredevils of the future to look beyond their own horizons. Because out there, new worlds are waiting to be discovered.
FAQ
Personalising & ordering
What is personalising and how does this work on the website?
You can start making your gift by clicking the 'start personalising' button. In our gift editor, you can personalise the gift completely in accordance with your wishes: add your own picture and/or text. If you want, you can also opt for a cool design to make your gift truly unique.

Is personalisation included in the price?
The price shown on the website includes the personalisation of your gift. Nice and clear!

How do I know if my picture has the right quality?
In the gift editor, you will receive a notification if the quality of the picture is insufficient.

What formats can I upload?
You upload JPG and PNG files into our editor. Is this too technical or do you have an image of a different format you would like to use? Please contact our customer service. They are happy to help you so you can make the gift you want!

Is my gift wrapped?
Currently, we do not have a gift-wrapping service to wrap your present. We do deliver our gifts in a festive packaging. This means that your gift is ready to be given or that it can be sent to the recipient directly.
Delivery time, delivery options and delivery costs
Can I choose a delivery date?
It is not possible to select a specific delivery date.

What is the delivery time and when do I receive my gift?
The expected delivery dates can be found on the product page.

What delivery options can I choose?
This varies per gift/order. You will be shown the available shipping methods in the shopping basket when completing your order.


Payment
How can I pay my order?
We offer the following payment methods: iDeal, Paypal, credit card and manual bank transfer. In case of manual bank transfer, please note that this takes up to 3 working days to be processed, and will delay the expected delivery dates.


Gift received
What if the gift is not entirely to my liking?
We deeply regret that your gift is not to your liking. Please contact our customer service, they are happy to help you find a suitable solution.

Is the invoice sent along with the order?
No invoice is not sent with your order. You will always receive the invoice in the confirmation email and you can always find it in your MySurprise account. This means you can have the gift delivered directly to the recipient, making it a true surprise!
Reviews
364 reviews (1 responses)
Hannah • 26-05-2021
I love the story and that the kid is included a lot in the book (name and photo). The book is very informative and interesting. The quality is also great!
Business gift?
Interested in ordering larger numbers of this gift? Please fill in the request form and receive an instant price quote. You can reach out to us directly via b2b@yoursurprise.com or during working days by phone between 08:30 - 17:00 (CET)
Every gift with unique personalization
Shipped directly to the recipient