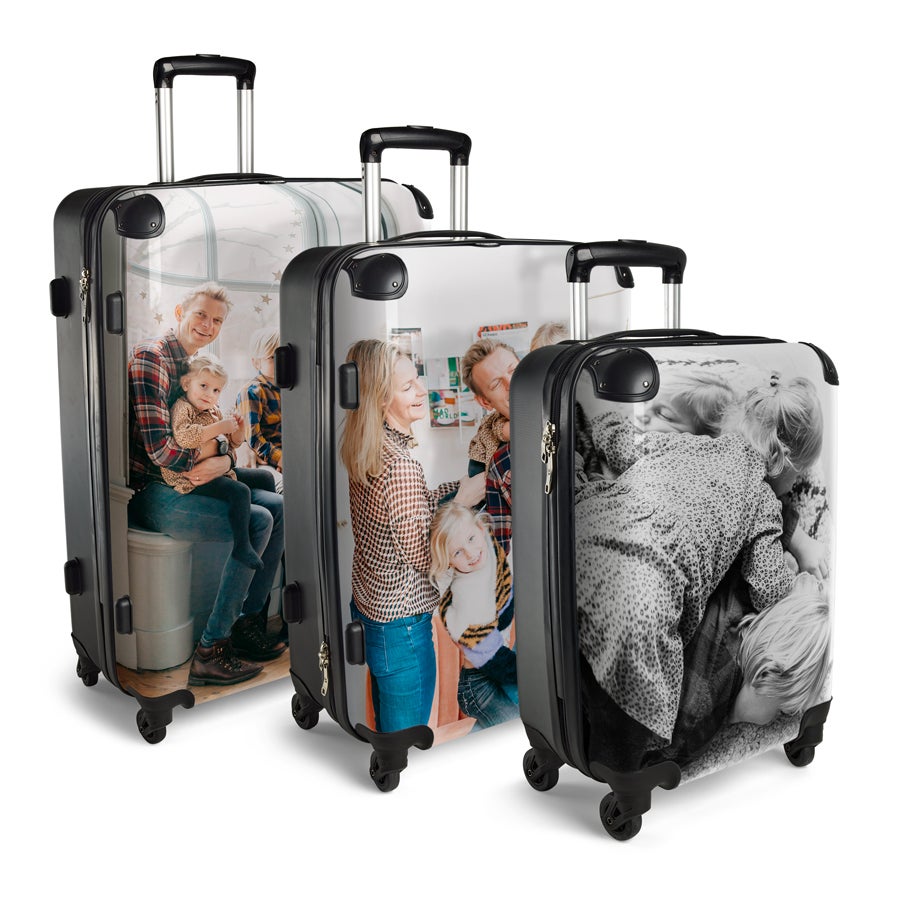 Custom Princess luggage set
Delivery address of your choice
Add a free message card for the recipient
Gifts specifications
More information about the photo suitcase set:
Set: 1 hand luggage suitcase, a L and XL suitcase
Make: Princess Traveller
Material front: 100% polycarbonate
Material back: ABS
Material print: 0.4 mm thick polypropylene
Ink characteristics: UV resistant, environmentally friendly and waterproof

Princess photo suitcase - M :
Dimensions: 51 x 35 x 20 cm (cabin size) (All measurements are taken with the handles completely out)
Weight (empty): 2.6 kg
Content: 36 liters
Wheels: 4 castors

Princess photo suitcase - L :
Dimensions: 67 x 46 x 24 cm (All measurements are taken with the handles completely out)
Weight (empty): 4 kg
Content: 66 liters
Wheels: 4 castors

Princess photo suitcase - XL :
Dimension: 77 x 52 x 27 cm (All measurements are taken with the handles completely out)
Weight (empty): 6 kg
Content: 102 liters
Wheels: 4 castors

Please note: suitcase measurements taken from the ground up to the top of the handle, when the handle is NOT extended.

Operating instructions combination lock
The lock is set to 0-0-0. Push the button in on the side and keep it pushed in, turn the wheels and set your 3 digit code. Release the button on the right side and your code is set. Make sure you do not release the button during the setup.


Easily create a unique super lightweight custom Princess luggage set with your photo!
Are you going on holiday with the whole family, or are you just looking for a convenient luggage set for a city trip, tour or working holiday? Then this Princess Traveller photo suitcase set is just what you need! You can easily make the hard suitcases unique with your most beautiful photo. You easily design a personalized suitcase for every family member. This custom suitcase set is also an original surprise for a newlywed couple, as they can go on honeymoon in style. Super useful for the seasoned (world) traveler, but these suitcases are also perfectly suitable for business trips!

The Princess Traveller luggage set consists of 3 suitcases, all with a lovely picture. The suitcases have a TSA combination lock and have high-quality zippers. You simply store the set stacked inside each other, so they take up little space. As the Princess suitcases are super light, you can take extra weight with you on holiday or bring back more souvenirs. The loose inlays also ensure you can still change the picture in your custom suitcase with a new holiday photo, collage or saying at any time. Get started and design your personal luggage set!

Princess Traveller is a Dutch brand with an international style. The brand offers a wide range of travel and sport items. Affordable luxury, quality, reliability and product innovation is of paramount importance to the company. They are distinguished by innovation, applying Dutch Design and the use of high quality materials. Princess Traveller is known especially for their exceptionally strong, lightweight luggage.


FAQ
Personalising & ordering
What is personalising and how does this work on the website?
You can start making your gift by clicking the 'start personalising' button. In our gift editor, you can personalise the gift completely in accordance with your wishes: add your own picture and/or text. If you want, you can also opt for a cool design to make your gift truly unique.

Is personalisation included in the price?
The price shown on the website includes the personalisation of your gift. Nice and clear!

How do I know if my picture has the right quality?
In the gift editor, you will receive a notification if the quality of the picture is insufficient.

What formats can I upload?
You upload JPG and PNG files into our editor. Is this too technical or do you have an image of a different format you would like to use? Please contact our customer service. They are happy to help you so you can make the gift you want!

Is my gift wrapped?
Currently, we do not have a gift-wrapping service to wrap your present. We do deliver our gifts in a festive packaging. This means that your gift is ready to be given or that it can be sent to the recipient directly.
Delivery time, delivery options and delivery costs
Can I choose a delivery date?
It is not possible to select a specific delivery date.

What is the delivery time and when do I receive my gift?
The expected delivery dates can be found on the product page.

What delivery options can I choose?
This varies per gift/order. You will be shown the available shipping methods in the shopping basket when completing your order.


Payment
How can I pay my order?
We offer the following payment methods: iDeal, Paypal, credit card and manual bank transfer. In case of manual bank transfer, please note that this takes up to 3 working days to be processed, and will delay the expected delivery dates.


Gift received
What if the gift is not entirely to my liking?
We deeply regret that your gift is not to your liking. Please contact our customer service, they are happy to help you find a suitable solution.

Is the invoice sent along with the order?
No invoice is not sent with your order. You will always receive the invoice in the confirmation email and you can always find it in your MySurprise account. This means you can have the gift delivered directly to the recipient, making it a true surprise!
Michael • 07-11-2019
The gift exceeded expectations!!!!!!!! Fantastic luggage set!
Business gift?
Interested in ordering larger numbers of this gift? Please fill in the request form and receive an instant price quote. You can reach out to us directly via b2b@yoursurprise.com or during working days by phone between 08:30 - 17:00 (CET)
Every gift with unique personalization
Shipped directly to the recipient